Configuring Voicemail to Email using Gmail Settings on the NEC SL2100
This Tech Tip demonstrates how to configure Vmail to Email notifications using the NEC Voicemail to Email Notifications License and a Gmail account. With voicemail to email notifications activated, each user can receive a WAV file copy of their voicemail to their individual email address. This tip applies to the NEC SL2100 Phone System only.
Get Connected
This Tech Tip requires access to the phone system using NEC PCPro Programming Software. To download the latest version of PCPro or for instructions on how to connect your computer to the phone system, please read the following: How to Connect to the NEC SL2100 or SL1100 Phone System for Programming.
Prerequisites
Gmail Account settings including the full username and password. (Also be sure to have POP3 enabled, IMAP disabled and less secure apps turned off)
PCPro Programming Steps
1. Go to Program 10-12: CPU Network Setup
2. Set the value of 10-12-03: Default Gateway to the LAN IP Address of the router your SL phone system will use to reach the internet
3. Set the value of 10-12-13: DNS Primary Address to Google's Public DNS server 8.8.8.8
4. Set the value of 10-12-14: DNS Secondly Address to Google's Public DNS server 8.8.4.4
5. Go to Program 47-18: SMTP Setup
6. Set the following values:
47-18-01 SMTP: Checked
47-18-02 Server Name: smtp.gmail.com
47-18-03 SMTP Port: 465
47-18-04 Encryption: Checked
47-18-05 Authentication: Yes
47-18-06 Username: your gmail address
47-18-07 Password: your gmail password
47-18-08 Send From Email Address: your gmail address
47-18-09 Reply To Email Address: your gmail address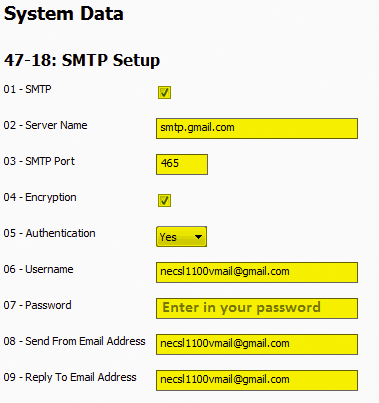 7. Go to Program 47-02: InMail Station Mailbox Options
8. Use the Mailbox (1~128) Search Field to navigate to the extension of a user who will be receiving voicemails to their email
9. Set the value of 47-02-20: Email Notification to "checked"
10. Set the value of 47-02-21: Email Address to the email address which the voicemails should be sent to for the user at Ext. 101
11. Repeat steps 9 through 11 for each user who will be utilizing voicemail to email
12. Apply and upload these changes